Fifth Joint Arctic SAR Workshop and TTX, 2020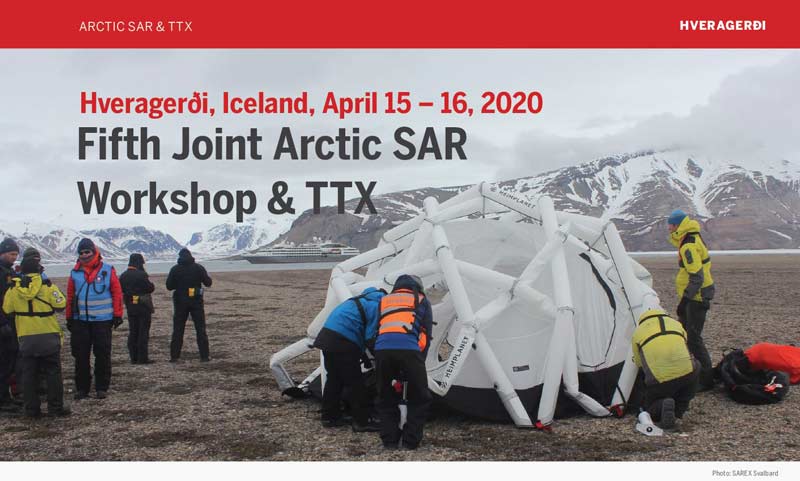 The Association of Arctic Expedition Cruise Operators (AECO), the Icelandic Coast Guard (ICG) and the Joint Rescue Coordination Centre in Northern Norway (JRCC NN), in collaboartion with ARCSAR (Arctic and North Atlantic Security and Emergency Preparedness Network) invite cruise operators, SAR responders and other relevant stakeholders to join us for the Fifth Joint Arctic SAR TTX and workshop.
Date: April 15th, 2020 – April 16th, 2020
Location: Hveragerði, Iceland
Welcome
Since it was first organized in 2016, the Joint Arctic SAR Workshop and TTX has established itself as the most important forum for exchange and joint training for SAR entities and the Arctic expedition cruise industry. The event allows participants to engage in frank discussions and gain valuable insight into the perspective and operational mode of the entities they will deal with in the event of an emergency. This joint SAR event gathers expedition cruise operators, Arctic search and rescue (SAR) responders and other relevant stakeholders for a tabletop exercise and workshop aimed at enhancing dialogue and cooperation between the cruise industry and the SAR sector in the Arctic. The event also features presentations from practitioners and researchers with updates on the latest developments in maritime preparedness, policy, technology and SAR cooperation.
Hotel and venue
Hotel Örk
Accommodation with meeting package and 3 courses dinner
In a standard single room. 28.475 ISK. In a Superior single room 31.015 ISK.
In Standard twn/dbl room. 22.838 ISK per person. In a Superior twn/dbl room. 26.210 ISK * per person.
In Junior suite 29.748 ISK* per person. In Suite 42.098 ISK per person.
Booking
Visit https://hotelork.is/en/ and use the code AECO2020.
Transportation 
The organisers will arrange for transportations to/from Keflavik International Airport (departure times to be decided).
Program
TBC
More information and registrations: