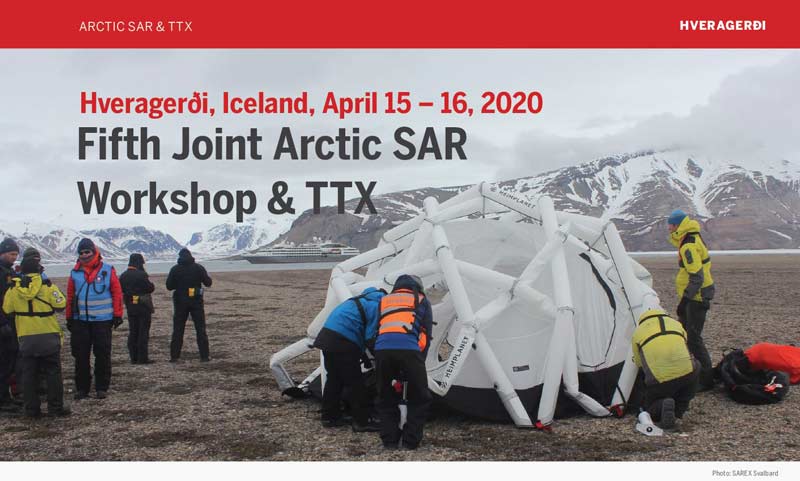 Innovation and Knowledge Exchange 2, Fifth joint Arctic SAR TTX and Workshop, Reykjavik, Iceland
UPDATE!
Due to COVID-19, the event has been postponed until further notice. We will keep you updated via the website or the social media should the situation change. Thank you for understanding!
Since it was first organized in 2016, the Joint Arctic SAR Workshop and TTX has established itself as the most important forum for exchange and joint training for SAR entities and the Arctic expedition cruise industry. The event allows participants to engage in frank discussions and gain valuable insight into the perspective and operational mode of the entities they will deal with in the event of an emergency. This joint SAR event gathers expedition cruise operators, Arctic search and rescue (SAR) responders and other relevant stakeholders for a workshop and tabletop exercise (TTX) aimed at enhancing dialogue and cooperation between the cruise industry and the SAR sector in the Arctic. The event also features presentations from practitioners and researchers with updates on the latest developments in maritime preparedness, policy, technology and SAR  cooperation.
Participation is open for members of AECO, Arctic SAR entities, ARCSAR partners and relevant authorities. Capacity is limited and early registration is recommended. Other interested can send an email to aeco@aeco.no.
Next Event
Date

May 01 2021

- May 03 2021

Time

All Day