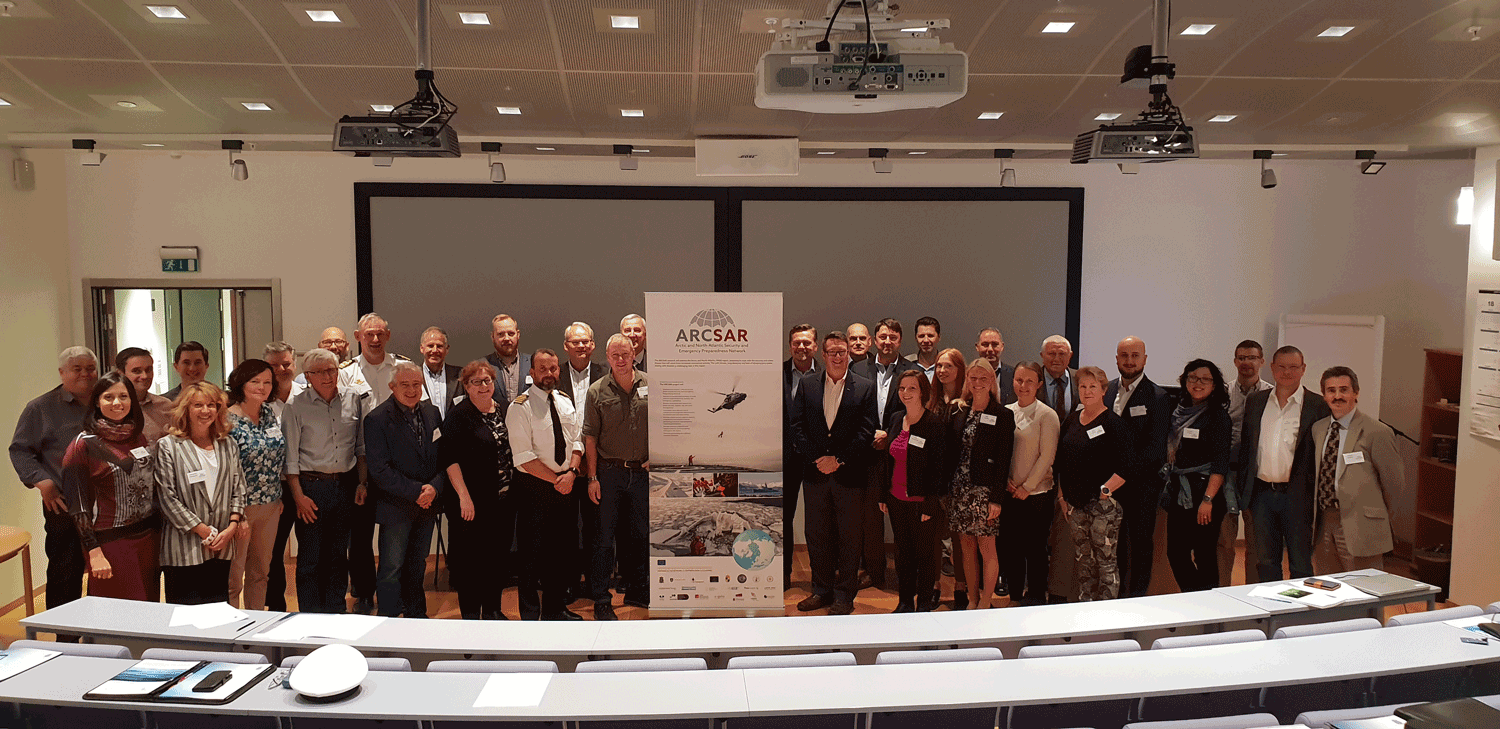 ARCSAR INNOVATION AND KNOWLEDGE EXCHANGE EVENT & ANNUAL WORKSHOP
OCTOBER 9, 2019, REYKJAVIK, ICELAND
FOSS HOTEL REYKJAVIK, ÞÓRUNNARTÚN 1, 105 REYKJAVÍK, ICELAND
---
ARCSAR ANNUAL WORKSHOP
Goal of ARCSAR Annual Workshop is to interact with industry, academia, and other providers of innovative solutions outside of the consortium, with a view to assessing the feasibility of ARCSAR first project year findings. The workshop will include presentations on the first year's project findings. Then an interactive discussion will follow with panelists and audience on the next steps and key issues to be taken into account by ARCSAR during the forthcoming project years, so that the project will serve the Arctic and North-Atlantic Security and Emergency Preparedness Network joint measures in most fruitful way. All are welcome to join the discussion, debates and providing solutions for the future cooperation measures.
---
INNOVATION AND KNOWLEDGE EXCHANGE EVENT
WORKSHOP ON INNOVATIVE EMERGENCY RESPONSE EDUCATION, TRAINING AND KNOWLEDGE SHARING WITH SME'S, LOCAL COMMUNITIES AND VOLUNTARY ORGANIZATIONS
With growing business activity such as tourism in the Atlantic and polar regions, SAR agencies as well as local communities and emergency response volunteer groups have come up with innovative solutions, tools and procedures in dealing with emergency preparedness and response.
The ARCSAR project has recognized that there is a need for more opportunities for sharing knowledge and having discussions on learning through involvement of local communities, voluntary organizations, companies, and SAR services.
The workshop invites ARCSAR network partners and other relevant stakeholders to discuss mutual opportunities, best practices and share experiences connected to technological and competence development, local knowledge, community and voluntary organization involvement in emergency preparedness, network development, and cooperation concepts.
---
AGENDA
The workshop will be a combination of presentations and participative discussions in smaller groups.
09:00 – 09:15 Opening remarks, the ARCSAR Project
09:15 – 10:15 Results from Work Packages
10:15 – 11:00 Discussion and next steps for ARCSAR
11:00 – 12:00 Lunch
12:00 – 12:15 Introduction to Innovation and Knowledge Exchange workshop
12:15 – 13:15 Presentations
13:30 – 15:00 Group discussions
15:15 – 15:45 Summing up key points from each topic
15:45 – 16:00 Concluding remarks
16:00 – 17:00 Reception and networking
19:00 – Dinner
---
ACCOMMODATION
FOSS HOTEL REYKJAVIK, ÞÓRUNNARTÚN 1, 105 REYKJAVÍK, ICELAND
The booking reference for the event at Fosshotel Reykjavik is: ARCSAR (Available until August 23)
Participants are kindly asked to book their own hotel rooms at Fosshotel Reykjavik Website: https://www.islandshotel.is/hotels-in-iceland/fosshotel-reykjavik
The hotel room rates based on ROH:
ISK 25.999 single // 28.749 double per room, per night.
---
MORE INFORMATION
ARCSAR Innovation and knowledge exchange event: Emmi Ikonen, emmi.ikonen@nord.no
ARCSAR project, accommodation and venue related matters: Irene Andreassen irene.andreassen@jrcc-bodoe.no
ARCSAR Annual workshop: Artmir Galica, artmir.galica@laurea.fi
---
WELCOME