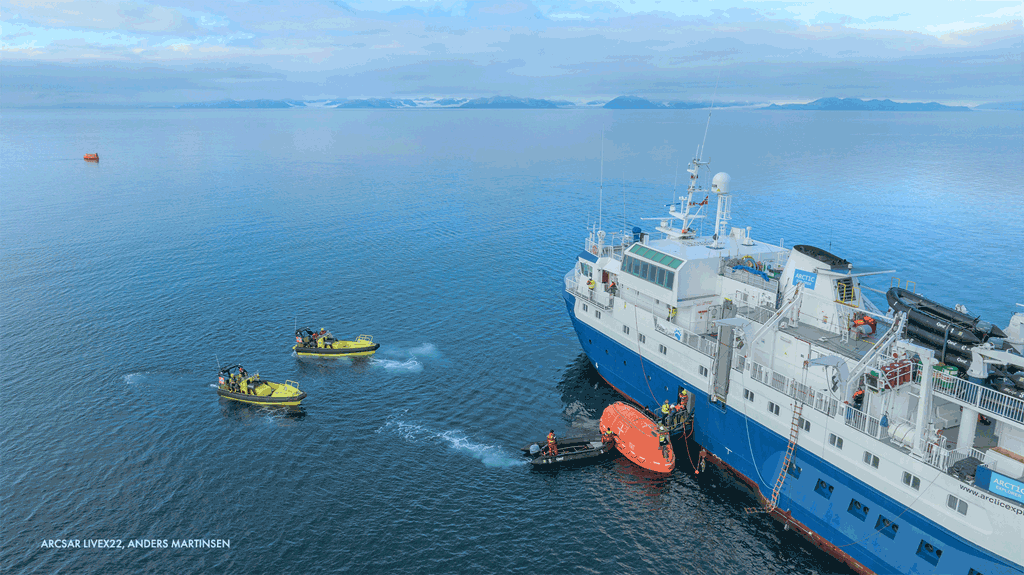 ARCSAR FINAL CONFERENCE – REYKJAVÍK SEPTEMBER 14th & 15th 2023
Event Schedule
September 14th & 15th 2023
Agenda
Included in Conference 
Conference entrance
Refreshments
Lunch
The ARCSAR Network addresses the Arctic and North-Atlantic (ANA) region, preparing to cope with the security and safety threats that will result from increased commercial activity in the region, including traffic through the northern passages, cruise traffic, and offshore oil and gas activity.
The conference is the final event of this five-year project. The main objectives and results will be highlighted with an opportunity for dissemination of knowledge and discussion.
The conference topics will reflect the main objectives of the project and offer lectures such as:
Exercise Design, Collaboration and Complexity in the Arctic and North Atlantic Region
From Idea to Action: A Talk With ARCSAR´s Founders
Lessons Learned from Exercises and the way Forward
An Overview of Arctic and North Atlantic Maritime Safety and Security Innovation Needs
Oil Response in the Arctic and North Atlantic Region
Innovation for Arctic and North Atlantic Search and Rescue
Book Presentation: The ARCSAR Case Study Book
Policy on Future Needs for Innovations and Knowledge
Starting to define guidelines and framework for future education and training needs
Policy and Standardization: Opportunities and Challenges
Current Priorities and Research in Cold and Sea Survival
The ARCSAR final conference brings together industry, responders and academia in a unique Icelandic surroundings.
The meeting venue is Hilton Reykjavík Nordica. Reykjavik is the world's northernmost capital and is surrounded by beautiful lava landscapes, mountains, waters and hot springs.
Please note that number of places is limited.
We look forward to seeing you in Iceland September 14th – 15th 2023.
Hotels
Recommended Hotel: Hilton Reykjavik Nordica: Booking link
Speakers
Anne Øien

Head of Communications - AECO - Association of Arctic Expedition Cruise Operators

Anne Øien is AECO's Head of Communications working from the main office in Tromsø. Anne joined in April 2022, and is responsible for AECO's communication strategies and day to day communication activities through relevant channels, working to promote AECO, industry initiatives and activities. In addition, she is responsible for crisis communication.
Anne is from Northern Norway and has a college degree in communications from HIBU, and extensive work experience from communication within different fields, including experience from tourism in the northern regions. She also holds a bachelor's degree in international emergency Preparedness focusing on Arctic Cruise Tourism and emergency preparedness in the high North, and a master's degree in Societal Security from UIT – the Arctic University of Norway.

Artmir Galica

Research, Development and Innovation Expert, Laurea University of Applied Sciences, Finland

Involved in security and safety research at Laurea since 2014. Throughout the years, he has had a keen interest in maritime safety, innovation, technology and ICT, with special focus on security by design.

Currently, he is involved with several initiatives concerning the improvement of EU's resilience and capabilities towards fighting cybercrime, hybrid threats and safety and security in the Arctic and North Atlantic region.

In ARCSAR he is the project manager and leader of the work package 3 "Future needs for Innovations and Knowledge" as well as the creator of the ARCSAR Innovation Arena and the ARCSAR website. Artmir is also leading the evaluation of the latest live exercise called "LIVEX".

Ashraf W. Labib BSc. MBA. MSc. PhD. CEng. FIET FORS. SFHEA

Professor of Operations and Decision Analysis, Operations Systems Management Group, Faculty of Business and Law, University of Portsmouth

Ashraf is a Professor at University of Portsmouth, UK. His area of research is in resilience, decision analysis, operational research and AI, as well as risk, safety science, and reliability engineering.

He was the Principal Investigator (PI) of an EU funded research grant on optimisiting a robotic brachytherapy to treat prostate cancer and another EU project to develop an AI-based risk index as part of a virtual control room for cast guards in the Arctic (AI-ARC).

He was PI for a grant by the UK Government in the area of security and risk funded by CREST (Centre of Research Evidence & Security Threats), funded by ESRC.
He was Co-Investigator of a project funded by Health Education England to investigate safety culture and learning from incidents in Portsmouth University Hospital Teaching Trust and a Co-investigator of an EU funded project for search and rescue in the Arctic. He is a Senior Fellow of Higher Education Academy,

Fellow of the Operational Research Society, a Fellow of the IET and a Chartered Engineer. He published over 180-refereed papers in professional journals and international conferences proceedings and has supervised 20 doctoral students to completion. He published a book on Learning from Failures: Decision Analysis of Major Disasters (2014), and co-authored a book on Reconfigurable Manufacturing Systems. He received four awards: 1999, 2000, 2008, 2012, 2019 "Highly Commended" awards for five published papers from the Literati Club, MCB Press.

Chris Wilson

Senior Search and Rescue Officer / Watch Leader Rescue Coordination Centre New Zealand (RCCNZ)

I have been at RCCNZ for 17 years, as an operational Search and Rescue Officer and more recently Watch Leader, with a special interest in Antarctic SAR and in Mass Rescue Operations. For the last six years I have worked with partners involved in the Ross Sea area of Antarctica, within New Zealand's Search and Rescue Region, to maintain the SAR response plan for the area.

Before coming to work at RCCNZ I was a front-line officer with New Zealand Police, which included an involvement with search and rescue. This aligned well with my enjoyment of hiking and climbing within New Zealand and overseas.

Earlier in my working life I worked with New Zealand's Ministry of Foreign Affairs and served at embassies in Germany and the Netherlands.

Christoph Kokott

Manager Market Development, Global Business, Airbus Defence and Space

His background is aerospace engineering with yearlong experience in the conceptual design of combat aircraft, training aircraft, UAVs and helicopters and its associated development of enabling technologies. He worked in the program management of the Eurofighter Typhoon program and was responsible for the delivery and handover to its customers.

Christoph Kokott has extensive management experience as Campaign Director in global combat aircraft sales campaigns. He was heading the marketing departments for combat aircraft within Airbus Defence and Space and in a subsidiary of the Eurofighter Typhoon Consortium. In his current role he also coversthe market development strategy, especially if it comes to markets such as the Arctic and High North.

Donatella Giampaolo

Marketing and Sales Civilian Institutions and Commercial Customers Europe, E-GEOS.

Donatella Giampaolo holds over 30 years of experience in the Earth Observation business, with a special focus on Very High Resolution Satellite imagery requirements, both Optical and Radar and related services. For several years, Donatella worked in the Eurimage Business Development Department as the EU Key Account Manager, responsible for important contracts with several International Organizations such as ESA, SATCEN, UNODC and other United Nations Agencies based in Vienna. For the past few years, she has been working in the e-GEOS Defense & Intelligence Department from Europe to Oceania. Then recently back to the civilian and institutional European Sales and Business Development activities within the e-GEOS MKGT & Sales department with a specific focus on Surveillance and Maritime.

Responsible for the business development and then management of large integrated COSMO-SkyMed data, e-GEOS geo-information derived services, receiving stations and platforms contracts in the European High North. In particular, important collaborations and contracts were set up with the Finnish Meteorological Institute (FMI) and the Kongsberg Satellite Services AS (KSAT). At national institutional level, Donatella has been working on innovative joint research cooperation activities with the Italian Navy Hydrographic Institute in the Arctic and represents e-GEOS in the Italian Ministry of Foreign Affairs and International Cooperation's Arctic Table. Moving to the commercial market, a large, multi-year contract was recently set up with a European advanced energy and environmental geo-analytics company. Speaking at several international events with good communication and negotiation skills, Donatella's understanding of user requirements remains one of the distinctive elements of her interests and activities.

Dr. Robert Brown

Senior Research Scientist School of Maritime Studies, Marine Institute, Memorial University of Newfoundland

Rob is a Professional Engineer (naval architecture) with a Ph.D. in Computing and Mathematics from the University of Greenwich (human behaviour during passenger ship evacuation).

For the past 20 years, Rob's research has focussed on measurement and modelling of human behaviour and equipment performance for emergency situations at sea, in fires and in the Arctic. Rob has spent thousands of hours conducting field experiments at sea and in the Arctic and has contributed to the development of international regulations and standards that govern passenger ship evacuation; life-saving appliances; and personal protective equipment.

Rob is currently co/supervising 5 PhD and 8 master's students whose research examines the effectiveness of new methods for fire fighter training; the performance and usability of personal floatation devices and personal locator beacons; probabilistically models search and rescue in remote regions, as well as evacuation behaviour of naval personnel at sea.

Dylan Jones

Professor of Operational Research based in the School of Mathematics and Physics at the University of Portsmouth, Director of the Centre of Operational Research and Logistics (CORL).

Dr Dylan Jones is a Professor of Operational Research based in the School of Mathematics and Physics at the University of Portsmouth, UK, where he is the Founding Director of the Centre of Operational Research and Logistics (CORL). Prof Jones's main topic of research is the use of analytical methodologies to model and solve problems with multiple conflicting objectives.

He has published over 90 scientific articles on this topic and a keynote book on goal programming. He has worked on multiple European Union funded research projects, providing support to stakeholders and policy makers in the fields of sustainable logistics and manufacturing, maritime and sea-border security, Arctic logistics, renewable energy supply chains and healthcare. His work has also been funded by the UK Engineering and Physical Sciences Research Council, Royal Society, Operational Research Society and Innovate UK.

Emmi Ikonen

Project manager at Joint Rescue Coordination Centre Norway, PhD research fellow at Nord university

Emmi Ikonen is a project manager at the Joint Rescue Coordination Centre in Bodø, Norway. She coordinates international projects aiming to develop cooperation and procedures for maritime search and rescue in radiological and nuclear emergencies.

She also holds a position as a PhD research fellow at Nord University within risk and emergency management. Emmi was the previous project manager for the ARCSAR project and is involved in the Arctic Council EPPR working group's Arctic Lessons Learned Arena project.

Prior to joining the JRCC in Bodø, Emmi worked as a project advisor at the Finnish Border Guard Headquarters with Arctic SAR related projects and the Arctic Coast Guard Forum.

Frigg Jørgensen

Executive Director of the Association of Arctic Expedition Cruise Operators (AECO)

Frigg Jørgensen is the executive director of the Association of Arctic Expedition Cruise Operators (AECO). Previous work includes general management of Visit Svalbard and tourism adviser for the Governor of Svalbard. Through almost three decades working in Arctic tourism, she has been involved in strategic planning, development, regulatory work, and projects aimed at ensuring sustainable tourism development and operation. She has been leading projects such as development of the "The Svalbard Guide Courses", "Clean up Svalbard", various guidelines, industry competence enhancement schemes, risk assessment tools and initiatives aiming at enhanced cooperation between industry and Arctic SAR entities. She has also been appointed member to several official committees including the "Norwegian Government's Cruise Committee" that recently investigate challenges and proposed measures for preparedness related to increasing cruise traffic in Norwegian waters.

Ingibjörg Lilja Ómarsdóttir

Coordinator for Recovery and Disaster Education

Ingibjörg Lilja is the coordinator for recovery and disaster education at the Department of Civil Protection and Emergency Management in Iceland. She is also a PhD student at the Department of Environment and Natural Resources at the University of Iceland. Her doctoral thesis focuses on crisis management and community resilience in connection with adverse natural events. Ingibjörg holds a BA degree in sociology from the University of Iceland and an MA in work science from the University of Gothenburg. Her fields of specialty at the Department of Civil Protection and Emergency Management are, long-term support for disaster-affected communities and building awareness among the general public through education and research. Ingibjörg has also been a long-term Red Cross volunteer, providing psychosocial support to people affected by adverse events.

Jan Pedersen

Senior Advisor, Norwegian Coastal Administration

Mr. Jan Pedersen is born in Norway and is graduated from the Royal Norwegian Air Force Academy. He has more than 30 years of experience in emergency planning and response through positions in the Norwegian Army, the Norwegian Air Force, and the Norwegian Coastal Administration. He is an experienced exercise planner and has led the planning and conduct of a wide range of national and international exercises. He has broad experience with national and international operations, cooperation and projects, and have worked in staff positions in the last years governmental led Marine Environmental Response operations in Norway. His daily position is within the Norwegian Coastal Administration, Area for Environment Emergency Response, Department for Operation and Coordination. Mr. Pedersen joined the ARCSAR-project in 2020.

Jóhan Müller

SAR Mission Coordinator – VØRN- MRCC Torshavn.

Has worked at VØRN-MRCC Torshavn in Search and Rescue for 12 years as a SAR controller and taking part in several courses and projects regarding exercises and Search and Rescue.
Worked a year in Search and Rescue in Greenland with Joint Arctic Command.

Previously sailed as an officer on vessels in the offshore sector in Denmark and Norway for 6 years.
Education as Master Mariner, 2003. Center for Maritime Studies & Engineering in the Faroes.

Holds a License as Master unlimited.

Jyrki Karonen

Director of safari operations

Soul and roots deep in Lapland tourism, promoting safety and genuine services in the Lapland Hotels & Safaris family.

Kevin Fitzgibbon

Manager, Halpin Research Centre, National Maritime College

Kevin Fitzgibbon is Manager of the Halpin Research Centre at the National Maritime College of Ireland, part of Munster Technological University. He is active in Arctic-related research and collaboration, for improved maritime safety and security. In particular, Kevin is a Work Package Leader for ARCSAR and for a related project, AI-ARC. Other research interests include: integrated systems & the Internet of Things; the use of data for machine learning and system optimisation; the fusion of satellite, aerial and terrestrial sensor data; distributed sensor networks for real-time environmental monitoring; etc.

Kevin originally qualified as a Civil Structural & Environmental Engineer, was MD of an engineering firm for 13 years, working as Team Leader on: harbour developments, piers, slipways, marinas; maritime environmental impact assessments; and designing & consent processes for major wind farms. Kevin has spent 10 years as a Senior Research Fellow at MTU, at Nimbus Research Centre and Halpin Centre.

Martin Berg

Expedition Leader, PolarQuest

Martin's passion for birds and mammals has brought him all over the world in his search for rare species. He has always been drawn to adventures and has taken part in many expeditions and conservation projects. As part of such projects he has spent time in the Amazon rainforest, the Arctic, Caucasus, and the Himalayas to study poorly known and endangered bird species. He has also spent several seasons studying seabirds on islands in the North Atlantic Ocean and around New Zealand and conducted at-sea surveys on seabirds and marine mammals in waters around Antarctica.
Martin holds an Honours degree in Biology from Lund University in Sweden and a Master's degree in Marine Biology from Bamfield Marine Sciences Centre in Canada. He lives in Stockholm, Sweden, but spends most of his time either in the Arctic or Antarctica where he guides and gives lectures in a wide range of topics related to natural history.

Mike Tipton MBE. PhD. MSc. FTPS.

Professor of Human & Applied Physiology

Professor Tipton has worked at the Universities of Surrey Portsmouth. He was Consultant Head of the Environmental Medicine Division at the Institute of Naval Medicine from 1996 to 2004. He has published over 750 scientific papers on drowning, thermoregulation, environmental and occupational physiology, and survival in the sea.

Professor Tipton was a Trustee/Director of Surf Lifesaving GB, he is a member of the Council of the RNLI as well as a Consultant to the Medical Director of the RNLI. He has been a consultant in survival and thermal medicine to the Royal Air Force, UKSport and the English Institute of Sport. Prof Tipton is a Fellow of the Royal Society of Medicine and The Physiological Society. He was awarded his MBE for services to physiological research in extreme environments; the Ireland Medal for saving lives from drowning worldwide; and the H&L Swiftwater rescue lifetime achievement award from the USA.

Mikel Dominguez Cainzos PhD.

Project Manager, Joint Rescue Coordination Centre Norway (Hovedredningssentralen)

Born in Bilbao in 1988, Mikel graduated in Political Science and Public Administration from the University of the Basque Country. He holds a postgraduate diploma in Security in the Mediterranean, Near, and Middle East (General Gutierrez Mellado College), an MPhil. in Peace and Conflict Transformation (University of Tromsø), and a PhD. in Sociology (Nord University). His research has focused on interorganizational collaboration in emergency response operations.
Mikel started working as a project manager at JRCC Norway in 2020 where he has managed and participated in projects under the EU H2020, Horizon Europe, Nordic Nuclear Safety Research, Norwegian Research Council, and the Norwegian Ministry of Foreign Affairs mechanisms.
Before joining JRCC Norway, he worked as a research associate and lecturer/assistant professor at Nord University teaching within graduate and postgraduate degrees.

Minna Markkanen

Research, Development and Innovation expert, Laurea University of Applied Sciences

Master Mariner and Master of Marine Technology. Experienced deck officer on merchant vessels. Worked as a lecturer in a vocational college, teaching future seafarers e.g. ship stability and cargo operations as well as navigation and safety of sea transport.

After a few of years of teaching, continued as a team manager in the maritime and harbor logistics sectors. During the years spent in vocational education, worked also in EU-funded projects improving maritime and harbor logistics sustainability, safety and education. One year experience as an RDI specialist in Laurea UAS, focusing mainly on maritime safety and security-related projects.

Natalia Andreassen

Professor, Nord University

Natalia Andreassen is a professor of organization and management at Nord University Business School, Center for crisis management and collaboration. She is responsible for the master's program in Preparedness and emergency management, teaching and supervising in emergency preparedness organization. Andreassen has worked as a researcher in maritime preparedness and emergency management at High North Center at Nord University Business School. Research field included especially interorganizational coordination and management and Arctic operational context. She is leading the UArctic Thematic Network on Arctic Safety and Security.

Ole Kristian Bjerkemo

Chair of the Arctic Council working group EPPR

Mr. Ole Kristian Bjerkemo is born in Norway and is graduated from Army Officer's school and Norwegian Business School (BI). He has more than 35 years of experience in emergency planning and response through positions in the Norwegian Army and Home guard, Civil Defence, as a consultant and in different positions in Norwegian Pollution Control Authority and Norwegian Coastal Administration. He has been Chair for the Bonn Agreement working group. He was Chair of the Arctic Council working group for Emergency Prevention, Preparedness and Response (EPPR) from 2011 to 2015. He once again took over as EPPR Chair from May 2023. For the last years he has been international coordinator in the Area for Environment Emergency Response in the Norwegian Coastal Administration.

Øystein Glomsvoll

, Senior Advisor, Satellite Navigation at the Norwegian Space Agency

Øystein Glomsvoll holds a Master of Science degree from the University of Nottingham within the field of Positioning and Navigation Technology. His research concerned signal jamming's effects on GPS and Glonass signals, and it uncovered vulnerabilities within navigation systems, which is crucial for a navigator to be aware of.

He has 15 years broad experience as navigator and commander from the Norwegian Navy and Coast Guard, and he has also taught naval cadets at the Norwegian Naval Academy.

Øystein's diverse experiences led him to the Norwegian Ministry of Defense's Program Space, where he lent his expertise to defense strategies. Later, he assumed the role of Senior Adviser at the Norwegian Space Agency, guiding satellite navigation policies while prioritizing security considerations.

Peter Garapick

Director External Relations, Permitting and Sustainability

Peter joined Quark Expeditions in December 2019 after 30 years in the Canadian Coast Guard where his last and most rewarding position was developing and managing the SAR program in the Canadian Arctic.

At Quark Expeditions, Peter is the Director of External Relations, Permitting and Sustainability and on behalf of Quark, is a member of the Association of Arctic Expedition Cruise Operators (AECO) Executive Committee and a member of other working groups in both AECO and IAATO.

RADM Georg Kr. Lárusson

Director General of the Icelandic Coast Guard and the Icelandic Hydrographic Service)

He was appointed Director General of the Icelandic Coast Guard and the Hydrographic Service from January 1 st 2005, by the Minister of Justice.

Born 1959, graduated in 1985 from the University of Iceland Faculty of Law. Earned entitlement as Attorney of Law in 1987. Advanced studies at the University of Copenhagen Faculty of Law 1987-1988.

• October 11, 2022 The France Minister of the Sea awarded RADM Lárusson the Ordre du Mérite Maritime.

• January 1,2019 The President of Iceland awarded RADM Lárusson the Icelandic Order of the Falcon

• Representative of the National Security Council from 2017.

• Appointments during professional career include first Deputy of the Chief Judge at the Reykjavík Civil Court, District Commissioner of number of counties and towns in Iceland and Judge of the Reykjavík Civil Court.

• Acting Commissioner of Police in Reykjavik 1998 and Director of Icelandic Directorate of Immigration in 1999.

RDML Jo-Ann F. Burdian

Assistant Commandant for Response Policy (CG-5R) U.S. Coast Guard

Rear Admiral Jo-Ann Burdian assumed the duties as the Coast Guard Assistant Commandant for Response Policy in May 2022. In this capacity, she is responsible for the development of strategic response doctrine and policy guidance for all Coast Guard forces. These policies encompass seven of the eleven operational maritime missions in the areas of law enforcement, search and rescue, maritime security, counterterrorism, defense operations, marine environmental response and emergency management and disaster response programs.

In Rear Admiral Burdian's previous assignment, she served as Commander Coast Guard Sector Miami. She directed all Coast Guard missions along 182 miles of Florida coastline, including Port Miami, the Miami River, Port Everglades, and the Port of Palm Beach. She served as Captain of the Port, Officer in Charge of Marine Inspection, Federal Maritime Security Coordinator, Search and Rescue Mission Coordinator, and Federal on Scene Coordinator for the over 250,000 square miles that constitute the Sector Miami area of responsibility.

RDML Burdian is a Coast Guard Permanent Cutterman and Honorary Chief whose previous operational assignments include Chief of Response at Sector Puget Sound, Commanding Officer of USCGC KEY BISCAYNE in St. Petersburg, Florida, and Executive Officer, USCGC ATTU in San Juan, Puerto Rico. She began her career as First Lieutenant, onboard the USCGC COURAGEOUS, in Panama City, Florida. Additionally she served as Coast Guard Liaison to the U.S. House of Representatives in Washington, D.C., where she managed all service engagements with Members of Congress, advised senior Coast Guard leaders on all matters related to the House of Representatives, and advocated for multi-billion dollar acquisition programs and advancing authorizing legislation. In addition, she served as the Senior Duty Officer in the White House Situation Room. Rear Admiral Burdian took advantage of the Coast Guard Temporary Separation program to care for her sons and drilled as a member of the Selected Reserve at Sector St. Petersburg, Florida.

Originally from Queens, New York, Rear Admiral Burdian is a 1997 graduate of the U.S. Coast Guard Academy where she earned a Bachelor of Science in Government. She also holds a Masters in Public Administration from Florida State University. She has been awarded numerous personal, unit, campaign, and service awards. Her military awards include the Armed Forces Service Medal, Defense Meritorious Service Medal, Coast Guard Meritorious Service Medal, Coast Guard Commendation Medal, Global War Terror Service Medal, National Defense Service Medal, Coast Guard Achievement Medal, and Humanitarian Service Medal. She is married to Captain Stephen Burdian, USCG (ret.) of Briarcliff, New York. Together they have three handsome sons – Jack, Sean, and James.

Tore Wangsfjord

Chief of Operations at the Joint Rescue Coordination Centre North-Norway (JRCC NN)

Tore Wangsfjord is the Chief of Operations at the Joint Rescue Coordination Centre North-Norway (JRCC NN) with responsibility for operational matters and coordination of Search and Rescue (SAR) missions. He has been at the JRCC for over 25 years as SAR Mission Coordinator, Chief of Operations, and acting Director.

Prior to joining the JRCC, Tore Wangsfjord graduated from the Norwegian Naval Academy and held several different positions onboard vessels in the Royal Norwegian Navy and Coastguard.

He has been working for many years with international cooperation, primarily with Russia, Sweden, and Finland, but also within ICAO and IMO. He has been an active participant within the Cospas-Sarsat Programme since 2002 as the head of the Norwegian Mission Control Centre, including 3 years as a Chairman in the Joint Committee.

Mr. Wangsfjord participated in the negotiations of the agreement of Search and Rescue in the Arctic and has a strong interest in all matters related to SAR in the Arctic.

Since May 2020 Mr. Wangsfjord has been the Coordinator for the ARCSAR-project.
Next Event
Date

Feb 09 2024

Time

All Day